On International Home Birth Day, our vice-chair, Louise, shares her home birth experiences.
I watched my Mum opt for a home birth when she was pregnant with my sister in 1989.  I listened as her choice was dismissed by various medical professionals.  My Mum was young and we didn't live in a big house and her GP informed her that home birth was the "first act of child abuse!"  Undeterred, my Mum eventually found a GP who would attend the birth, as was necessary then. He was elderly and arrived by bicycle, only to return again the following year on my sister's first birthday with a ball as a present.  I believe these are the origins of my interest in birth but more importantly that there should be choice around birth preferences for everyone.  It warms me that we have come a long way since 1989!
I had home births with my 3 children.  My first did end up in hospital after 3 days of back to back labour but my baby boy arrived safely.
Am I allowed to say I enjoyed giving birth at home!?  I felt empowered and connected to days gone by when home birth was the norm.  I thought a lot about my Great Grandmother who finished her shift in the local fish and chip shop at 10pm and then went home and delivered surprise twins – there were no scans in 1927!  I was also fortunate to have my Mum with me with a hot flannel on hand cheering me on. I believe homebirth has further deepened our bond as Mother and Daughter and intensified her role as Granny.
The best part of home birth for me was being relaxed and able to listen to my body in my own surroundings.  It was magical for my son to meet his little sister at 10 minutes old and then for my first son and daughter to meet number 3 as a surprise when they awoke in the morning.
I'm aware that not everyone has choice in their maternity journey and I want to help change that, so everyone has a good outcome and feels empowered to make the choice that is right for them.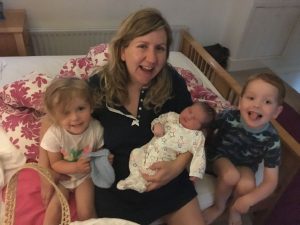 Louise pictured shortly after the arrival of baby number 3 at home, with his older brother and sister. 
Further information:
Home birth information from Gloucestershire Hospitals NHS
Home birth Facebook live Q&A (filmed 2 years ago)
NHS – Choosing your birth location